The TAPESTRY project works in three cases in Mumbai, Kutch and the Sundarbans – described as 'patches' of transformation.
Skip to: Mumbai | Sundarbans | Kutch
All three patches have certain qualities in common: a fragile coastline, shrinking and increasingly exploited mangrove forests, and diverse threats to marginal people's livelihoods, not least due to wider development processes and trends as well as uncertain climate change impacts. In each patch, we will study existing processes of co-production, and our own work will be carried out through a collaboration between academic and non-academic partners.
Through comparative work, TAPESTRY will draw out lessons and also aim to be part of potential triggers for change – opportunities and alliances – whilst generating knowledge on different ways of co-producing change within patches and across scales.
---
Mumbai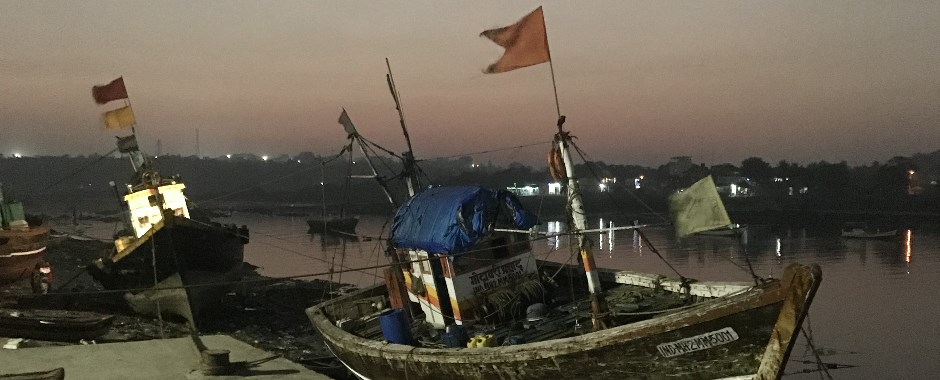 Mumbai is a mega coastal city in western India largely reclaimed from the sea. It is a cosmopolitan city with huge social, ethnic and religious diversity. The city is likely to be affected by climate change related uncertainties associated with sea-level rise, extreme rainfall events, impacts of heat island effects and changes in ocean surface temperature. About 50% of the population is poor and resides along the coast or in ecologically vulnerable spaces by creeks and drains. Everyday concerns include tenure insecurity, access to livelihoods and basis services as well as chronic flooding during the monsoon.
In urban Mumbai, coastal ecosystems and wetlands (e.g. mangrove forests and biodiversity creeks) have been systematically appropriated by the state and private actors for commercial and infrastructure development purposes. These combined with flooding, sea-level rise and coastal erosion have created severe risks for coastal regions and their populations, especially the Koli fishers, the native fishing community in Mumbai. The Kolis are an important stakeholder in the city with unique relationships to its coastal resources (especially mangroves) and require special legal support to protect their coastal spaces.
Transformations in Mumbai
In recent decades, alliances have been forged between progressive state agencies, civil society and citizen groups (both rich and poor) that are moving away from conventional paradigms that have either promoted conservation agendas that have often harmed the poor (e.g. forced evictions from low-lying coastal areas often in the name of climate change and uncertainty ) or infrastructure development. The TAPESTRY project focuses on Mahim and Versova, where alliances are re-imagining coastal ecosystems by focusing on mangrove restoration, sustainable water and waste management as well as ways to strengthen the city's adaptive capacity to disasters and climate change whilst also asserting the need to protect the livelihoods of vulnerable social groups that live on the city's margins. Specifically, we will work with Bombay 61 that is empowering local Kolis and the Mangrove Cell (a state agency) which is exploring new ways of working with local communities and civil society to improve urban planning and governance.
---
The Sundarbans
The Sundarbans delta in India and Bangladesh is home to the largest mangrove forest area in the world, recognized by UNESCO as a world heritage site due to its ecological and cultural significance. It is also one of the most vulnerable areas of the Indian subcontinent and considered to be a 'hotspot' due to frequent natural disasters (e.g. cyclones, storm surge flooding, land erosion) and climatic stressors (sea level rise, disappearing islands and extreme rainfall and temperature patterns). These have negatively affected traditional livelihoods such as shrimp farming and paddy cultivation.
In 2009, Cyclone Aila caused a great deal of devastation to the area, especially to agricultural livelihoods. More recently, commercial interests such as shrimp farming (in Bangladesh), tourism (in India) and conservation efforts (India and Bangladesh) have contributed to unequal growth patterns in the region, with poverty and malnutrition remaining very high. In response to the agrarian crisis and lack of employment opportunities, out-migration has become a defining feature of the Sundarbans, negatively affecting the islanders' sense of 'place identity'. Women are disproportionately affected, and their socio-economic vulnerability has increased while needing to play a more critical role in sustaining their families. Despite the numerous challenges, community perspectives remain largely absent from state-led plans which focus heavily on infrastructural development instead of alternative livelihood options or long-term climate adaptation.
Even though these islands have only been inhabited for about 300 years by humans, different groups of Muslims, Hindus and so called tribals have created a syncretic culture typical to the islands where for example the goddess Bon Bibi is venerated by all as their protector.
Transformations in the Sundarbans
In response to the vulnerabilities that the Sundarbans are facing, alliances between NGOs, scientists and local people have been challenging state-dominated development trajectories that have tended to neglect the dynamic nature of the delta and its multi-faceted development challenges.
Rather than focusing on top-down solutions (such as concrete embankments) that might prove maladaptive in the long run, they are arguing for locally appropriate and sustainable options that can help expand livelihood options for local people while at the same time easing pressure on existing natural resources such as forests and mangroves.
Our focus is on Sagar block (India) and Shayamnagar sub-district (Bangladesh) which are both vulnerable to climate change and other environmental shocks. Here, hybrid innovations around wetland agriculture and fishing (e.g. salinity resistant paddy cultivation, crab farming, aquaculture) are helping to enhance food security, livelihood security and local wellbeing, including the floating cage aqua-geoponics system for raising fish in cages and growing vegetables in the same system.
These initiatives have helped to counter various livelihood uncertainties for the islanders. In both countries, marginalised groups such as small farmers who have lost their lands to land erosion as well as small fishers are being involved in new initiatives. This helps reduce out-migration. Youth and women, in particular, have gained new skills and positive implications for vulnerable women's bargaining power and agency. Working across both countries provides the possibility for regional transformation in a way that transcends political boundaries.
---
Kutch
Kutch is a dryland located in the state of Gujarat known for water scarcity, frequent droughts and erratic rainfall. This arid region has a diversity of ecosystems, ranging from wetlands to grasslands, deserts and a long coast with lush mangrove forests. Recent research indicates that the coastal areas are likely to be the worst hit by climate change affecting agricultural lands. Sea-level rise and exposure to cyclones and storm surges are likely to become more frequent. While local people are used to living with uncertain rainfall patterns, and livelihoods like pastoralism are attuned to living with the uncertain rhythms of nature, in recent years rainfall has become very unpredictable with an increase in extreme events in the form of intense periods of rainfall or even floods. These have made livelihoods more precarious.
Rapid and aggressive industrial expansion since 2001 has led to the shrinking of commons, denudation of coastal ecosystems and destruction of mangrove forests. These have posted threats to indigenous breeds of livestock, exacerbating the vulnerabilities of pastoral livelihoods and threatening their well-being. Like the other sites, Kutch is multi-ethnic and known for its religious syncretism.
Transformations in Kutch
In Kutch, bottom-up alliances between civil society, academic institutions and local people are challenging conventional wisdoms that see drylands as 'marginal' and 'unproductive wastelands' and pastoralist livelihoods as 'backward'. Our focus is on Lakhpat and Abdasa where the NGO Sahjeevan has been working with local pastoralists to interrogate problematic attitudes towards pastoralists whilst also contributing to a paradigm shift in state policies and programmes.
Work with buffalo herders of the district resulted in dramatic changes in the way the government perceives pastoralists and their use of the grasslands (e.g. rights to manage the commons and the establishment of a dairy). The Kharai (swimming) camel is a unique breed only found in Kutch, but its habitat is under threat due to industrialisation on the coast and the increase of salt pans that are destroying mangroves and forests. After much struggle, it has gained official recognition as a breed.
These initiatives have helped pastoralists reclaim their pastoral identities and lifestyles as well as develop livelihoods that are climate resilient and flexible. These changes are transformative because they strengthen the land and forest rights of marginalized groups, enhance sustainable outcomes in marginal spaces as well as re-shaping state imagination of the drylands that have routinely been treated as wastelands.
---
Read more about the TAPESTRY project.